Easter
March 18, 2021 | Didi Bacon
Sunday, March 8, 2020, was the last time we gathered for church with no restrictions before the lockdown.
It is hard to believe that it has been a year.
Easter Sunday was April 6, 2020. Tim Pride, our Campus Manager, took this picture at 11:30 am that Easter Sunday.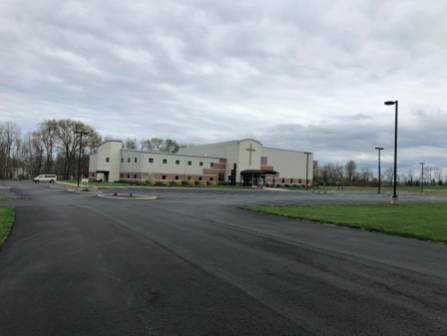 On a day when the parking lot is typically full of cars, it was empty. Yet, we still gathered in our homes and connected with each other online. We gathered to celebrate the foundation of our faith; Jesus is alive! Paul lays out the importance of Jesus' resurrection for us in his first letter to the church in Corinth when he says:
But if there is no resurrection of the dead, not even Christ has been raised; and if Christ has not been raised, then our preaching is vain, your faith also is vain. Moreover we are even found to be false witnesses of God, because we testified against God that He raised Christ, whom He did not raise, if in fact the dead are not raised. For if the dead are not raised, not even Christ has been raised; and if Christ has not been raised, your faith is worthless; you are still in your sins. Then those also who have fallen asleep in Christ have perished. If we have hoped in Christ in this life only, we are of all men most to be pitied. - 1 Corinthians 15:12-19 NASB
Our faith is built upon the belief that Jesus rose from the dead on the Sunday after the Jewish feast of Passover.
Early on the first day of the week, while it was still dark, Mary Magdalene went to the tomb and saw that the stone had been removed from the entrance… - John 20:1 NIV
Easter Sunday is THE day! Because we know that it was the Sunday after the Passover, every year we celebrate Easter on the Sunday after the Jewish Passover. In other words, if it was 2021, Jesus would have come into Jerusalem on Thursday, April 1, and celebrated the Passover feast with his disciples in the upper room. That night he would have been arrested in the garden of Gethsemane and taken for trial. Early Friday morning on April 2, he would have been taken to Pilate and then condemned to death by crucifixion. From around noon on Friday to 3 pm, darkness would engulf Jerusalem as Jesus hung on the cross and died. He then would have been taken down from the cross and quickly buried in a friend's tomb before 6 pm. He would have been in the tomb all night Friday and all day Saturday. Then early in the morning, before sunrise on Sunday, April 4, God would bust Jesus out of the tomb alive! Whenever we celebrate Easter, it is on THE day! Easter Sunday is our Sunday of Sundays!
This is why our community of Jesus followers gathers to worship on the first day of the week. The church in the New Testament pretty much gathered in one way or the other every day of the week. But Sunday would be special because it was the day that Jesus rose from the dead.
We get clues from scripture that the church of Jesus gathered on Sundays to give themselves to learn scripture, engage in fellowship, take communion, and pray.
On the first day of the week we came together to break bread. Paul spoke to the people and, because he intended to leave the next day, kept on talking until midnight. - Acts 20:7 NIV
Now about the collection for the Lord's people: Do what I told the Galatian churches to do. On the first day of every week, each one of you should set aside a sum of money in keeping with your income, saving it up, so that when I come no collections will have to be made. - 1 Corinthians 16:1-2 NIV
The special connection between Jesus' resurrection and Sunday is the reason why the first day of the week would be simply called the "Lord's Day."
On the Lord's Day I was in the Spirit, and I heard behind me a loud voice like a trumpet… - Revelation 1:10 NIV
If Jesus is your Savior (Forgiver) and Lord (Leader), then Sunday has to be a special day. A special day for you to exercise your faith. And Easter Sunday will be the most special day!
Easter Sunday will be April 4 this year. Mount Carmel Christian Church will be gathering to celebrate the resurrection of our Lord Jesus. We will be gathering onsite at 8:00 am, 9:30 am, and 11:00 am. Our parking lot will have cars in it this year! We will also be broadcasting live at 8:00 am, 9:30 am, and 11:00 am (EST) to gather online. Please join us. Please invite others to join you. It is our Sunday of Sundays! It is THE Lord's Day.
God has provided a way for us to be right with Him through faith in Jesus. It has been guaranteed because Jesus died on a cross on Friday and was buried; he stayed in the tomb Saturday but was busted out by the power of God on Sunday! Jesus is alive!